Soon, you'll be able to open up your very own marijuana dispensary. For those of you budding entrepreneurs, this is certainly some exciting news. However, if you're still unsure of whether or not you want to start a marijuana dispensary in California, allow me to go over 5 reasons you should definitely consider it.
5 Reasons Why You Need To Start A Marijuana Dispensary In California Right Now
Reason #1: It'll Be Legal To Sell in 2018
While medicinal marijuana has been legal in California for quite some time, businesses no longer need to pretend to be medicinal to sell marijuana.
Reason #2: You Have 2 Years To Prepare
2 whole years until you can sell it. This means you have two years to learn how to properly grow it, 2 years to figure out your business plan, and two years to invest in your new business venture.
Reason #3: Large Marijuana Outlets Won't Be Allowed To Compete With You
If you don't think now is the right time to prepare, then consider this. For the first 5 years, large marijuana outlets will not be allowed to sell marijuana in order to give other, smaller businesses a chance in the market. This means you have 7 years to start a marijuana dispensary in California and run it successfully before you have to deal with these large nationwide marijuana outlets.
Reason #4: No (Real) Competitors
In addition to not having to deal with those large marijuana outlets, you more than likely won't have to worry about local competitors all that much. Most people who start businesses fail, and that goes for the marijuana industry as well. Most of the people who are going to start a marijuana dispensary in California are going to be former drug dealers (i.e., people who think they understand business) and pot heads.
Reason #5: The Industry Isn't Saturated Yet
The problem with most industries is that, over time, they become saturated with people. These people can be your competitors, website owners, app developers, and so on and so forth. This makes it difficult to sell in most industries these days. However, something unique about the marijuana industry right now is that you don't have to deal with this problem.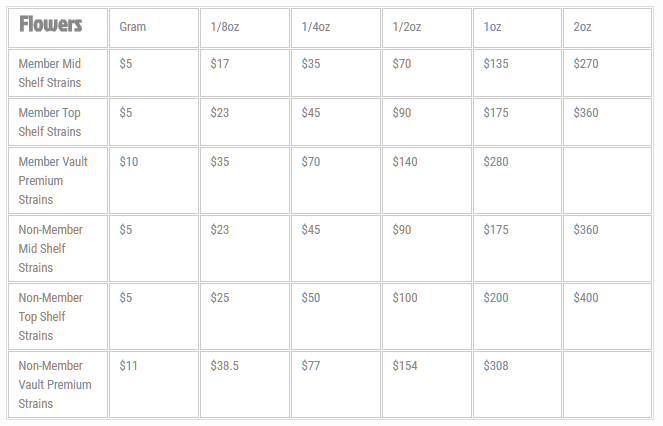 As a general rule, your dispensary weed prices will need to be both affordable for your target consumer, that is the people you plan on selling to, as well as competitive, that way your potential customers don't just run off to your competitors.
Much like gas prices, dispensary weed prices are likely to vary between cities. With any other business, you could easily look at your competitor's prices and charge based on that, but since there aren't any legitimate recreational marijuana dispensaries in California yet (as of November, 2016), you can't do this. But don't fret, as you've still got a couple of options for determining your dispensary weed prices.
Determining Your Dispensary Weed Prices
Reference Prices In Other States
MMJ America, which is based in Denver, lists the prices of their flowers, edibles, concentrates, bags, and everything else right on their website. You can find other websites as well just by searching for "marijuana pricing list" in Google.
Reference Street Prices
It's ghetto and raunchy, but technically, those street guys are your competitors, too! If you know any potheads, try to get an idea of how much their suppliers are charging, and base your prices off of that. Of course, if the supplier's prices are too low for you to charge, then you'll need to adjust the prices to something more reasonable while convincing others to purchase your weed rather than street weed (labelling it as "safer than the street" is one way to go).
Other Pricing Methods
Member Discounts
Using MMJ America as an example again, you can see that they offer a 5% discount to their members. You can have people become member either on your website or by creating in-store cards for them to use when they show up at your store.
Product Combinations
Consider coupling bongs and other accessories with your weed. More than likely, some people who are new to recreational marijuana won't have everything they need, so bongs, roll-paper, lighters, and other accessories sold with marijuana at a small discount will help them immensely.
On November 8th, 2016, Proposition 64, also known as the Adult Use of Marijuana Act, was approved. Thanks to the approval, recreational marijuana dispensaries can now legally exist in California without the fear of prosecution. However, before you run off and try to be a budding entrepreneur, it's important to know that there are now a whole new set of marijuana dispensary laws that you need to understand.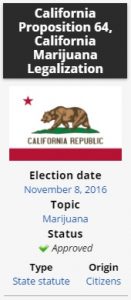 California Marijuana Dispensary Laws (As of November 11. 2016)
Licenses & Legal Documents
This article will be updated as more information is released.
State License: The main license you'll need to sell marijuana is a state license. You'll be able to obtain this license at the Bureau of Marijuana Control. At the moment, there are no licenses available.
Fictitious Business Name Statement: If you plan on operating a marijuana dispensary in California under a name, you'll need to file a fictitious business name statement with your county clerk.
Business License: Once you have a state license, you'll need to procure a business license from your local city hall.
Home Occupation Permit: Assuming you plan on opening a home-based marijuana dispensary (if you're allowed to open one in your city), you'll need to get a home occupation permit from your city hall. This takes a bit longer to file than a business license as your city will send someone to inspect your home to make sure it's in compliance with the law.
Articles of Incorporation & Other Documents: Depending on how you decide to set up your dispensary's business structure, there may be several other documents you need to file in order to successfully set up your business.
Prohibitions
Anyone under the age of 21 cannot sell marijuana (as you need to be 21 years old to use it).
Business locations within 600 feet of a school, daycare, or youth center.
Large-scale existing marijuana businesses (to prevent a monopoly from occurring).
You cannot sell minors marijuana.