Marijuana Laws
now browsing by tag
On November 8th, 2016, Proposition 64, also known as the Adult Use of Marijuana Act, was approved. Thanks to the approval, recreational marijuana dispensaries can now legally exist in California without the fear of prosecution. However, before you run off and try to be a budding entrepreneur, it's important to know that there are now a whole new set of marijuana dispensary laws that you need to understand.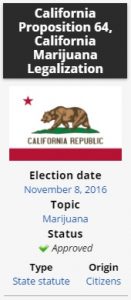 California Marijuana Dispensary Laws (As of November 11. 2016)
Licenses & Legal Documents
This article will be updated as more information is released.
State License: The main license you'll need to sell marijuana is a state license. You'll be able to obtain this license at the Bureau of Marijuana Control. At the moment, there are no licenses available.
Fictitious Business Name Statement: If you plan on operating a marijuana dispensary in California under a name, you'll need to file a fictitious business name statement with your county clerk.
Business License: Once you have a state license, you'll need to procure a business license from your local city hall.
Home Occupation Permit: Assuming you plan on opening a home-based marijuana dispensary (if you're allowed to open one in your city), you'll need to get a home occupation permit from your city hall. This takes a bit longer to file than a business license as your city will send someone to inspect your home to make sure it's in compliance with the law.
Articles of Incorporation & Other Documents: Depending on how you decide to set up your dispensary's business structure, there may be several other documents you need to file in order to successfully set up your business.
Prohibitions
Anyone under the age of 21 cannot sell marijuana (as you need to be 21 years old to use it).
Business locations within 600 feet of a school, daycare, or youth center.
Large-scale existing marijuana businesses (to prevent a monopoly from occurring).
You cannot sell minors marijuana.