Determining Your Dispensary Weed Prices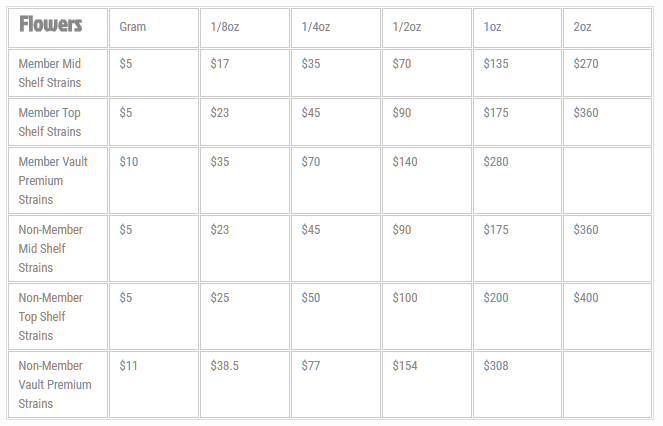 As a general rule, your dispensary weed prices will need to be both affordable for your target consumer, that is the people you plan on selling to, as well as competitive, that way your potential customers don't just run off to your competitors.
Much like gas prices, dispensary weed prices are likely to vary between cities. With any other business, you could easily look at your competitor's prices and charge based on that, but since there aren't any legitimate recreational marijuana dispensaries in California yet (as of November, 2016), you can't do this. But don't fret, as you've still got a couple of options for determining your dispensary weed prices.
Determining Your Dispensary Weed Prices
Reference Prices In Other States
MMJ America, which is based in Denver, lists the prices of their flowers, edibles, concentrates, bags, and everything else right on their website. You can find other websites as well just by searching for "marijuana pricing list" in Google.
Reference Street Prices
It's ghetto and raunchy, but technically, those street guys are your competitors, too! If you know any potheads, try to get an idea of how much their suppliers are charging, and base your prices off of that. Of course, if the supplier's prices are too low for you to charge, then you'll need to adjust the prices to something more reasonable while convincing others to purchase your weed rather than street weed (labelling it as "safer than the street" is one way to go).
Other Pricing Methods
Member Discounts
Using MMJ America as an example again, you can see that they offer a 5% discount to their members. You can have people become member either on your website or by creating in-store cards for them to use when they show up at your store.
Product Combinations
Consider coupling bongs and other accessories with your weed. More than likely, some people who are new to recreational marijuana won't have everything they need, so bongs, roll-paper, lighters, and other accessories sold with marijuana at a small discount will help them immensely.